DEVELOPMENT STRATEGY
Affordable housing plan in urban renewal area gives declining community a fresh approach to achieving neighborhood revitalization and the dream of homeownership.
THE PROJECT
Under Phase I, 14 three bedroom 1-1/2 bathroom duplex town homes were constructed in the residential and commercial neighborhood on Lincoln Avenue and Morris Street. The homes were sold to first time purchasers, who had an opportunity to buy these 1260 square foot homes, complete with basements, for their families.
The $1.6 million affordable housing development was funded by grants from the New York State Affordable Housing Corporation and HUD funds from the City of New Rochelle. The support of the city, by declaring the land an urban renewal area, was a key component in moving the project forward. NDR Group, as sponsor of the development, obtained housing grants and coordinated design from the planning stages through new home owner move-in.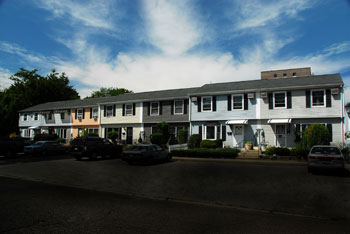 COMMUNITY BENEFITS
In addition to creating new home ownership opportunities for families,, the housing development helps to generate new tax revenue, amounting to nearly one hundred thousand dollars annually. Aside from the financial advantage, affordable housing community projects give local governments the ability to partner with organizations that understand the needs of housing clients who have had difficulty achieving their goals of homeownership. The overwhelming success of the townhouse initiative has proven that affordable housing is not undesirable housing.
The Lincoln Avenue Town Houses Phase I is a leading example of a housing development that gives first time home buyers the opportunity, that many did not think was possible, to invest in an enduring home for their families.